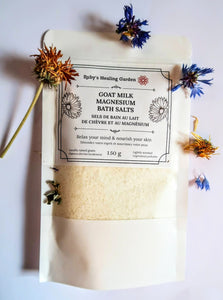 Wholesale $16.05        MSRP$22.50 
 Enjoy up to 4-5 baths with this blend. 
Thank you for supporting a local, woman-owned, small business.
We are happy to provide holistic self-care products for our community while supporting local farms. And locally owned or Canadian companies. 

Please select how many units or cases you'd like to order. Along with payment terms.

An invoice will be submitted to the email address provided.
All orders will be delivered within 1-2 weeks. 

No minimum orders. Free local delivery within Calgary, AB 
Contact info@rubyshealinggarden.com 
This blend gives you extra goat milk powder, without any essential oils or scents.
Other than the natural "milky" scent from the powder. 
Excellent for making your bath water extra creamy and enchanting. And providing you with even more skin repair benefits,  that the goat milk provides. 
Contains local ingredients:
-Goat milk powder (from goats raised in AB + BC)
Using goat milk in the bath is an old lost tradition with many nourishing benefits. The fats and proteins in milk absorb easily & deeply hydrates your skin
-Mineral-rich, cleansing Sea Salt (hand-harvested in salt spring island BC)
-Soothing Epsom Salt (pure, non-synthetic)
-Itch-relief Baking Soda (aluminum-free)
 
All ingredients are Unbleached - Unprocessed - Unrefined NO: detergents, parabens, emulsifiers, or harmful ingredients. 
Goat milk powder from pastured feed, antibiotic & growth hormone-free goats. 
Use 4 tablespoons per bath (Enjoy up to 4-5 baths).
Or if you had a rather stressful day, use the full pouch!
150g
Rubys Healing Garden currently accepts  EFT payments.